Page 20 - ISAKOS 2019 Newsletter Volume 1
P. 20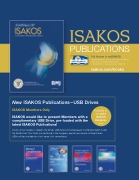 PUBLICATIONS
                                  myPublications
            myPublications
Full Access in myISAKOS
ISAKOS Members can access all official ISAKOS Publications through myPublications
in myISAKOS–Including Journal of ISAKOS!
isakos.com/books
 New ISAKOS Publications–USB Drives
 ISAKOS Members Only
ISAKOS would like to present Members with a complimentary USB Drive, pre-loaded with the latest ISAKOS Publications!
Available at the 2019 ISAKOS Congress Only!
Onsite at the Congress, redeem the ePubs USB ticket at the Backpack Distribution booth inside the Exhibit Hall. The Ticket can be found in the Congress packet you receive at Registration. USBs will be available on a first-come, first-served basis.