Page 4 - ISAKOS 2019 Newsletter Volume 1
P. 4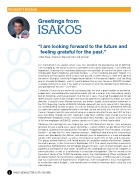 PRESIDENT'S MESSAGE
2 ISAKOS NEWSLETTER 2019: VOLUME I
Greetings from
"I am looking forward to the future and feeling grateful for the past."
–Mike Rowe, American Television Host and Narrator
As I mentioned in my speech when I was first elected to the presidential line of ISAKOS, I am humbled by the honor to serve as president of this great organization. I was filled with trepidation, knowing that I would be following in the footsteps of some of the great icons in Orthopaedic Sports Medicine and Knee Surgery — a truly humbling prospect indeed. It is amazing to me how quickly these 2 years have passed. It seems like just a short time ago that we were in Shanghai, watching Philippe Neyret deliver his Presidential Address and Yao Ming give his Presidential Speech, and it is hard to believe that my own tenure as ISAKOS President is already coming to an end. It has been a true honor to serve the membership of ISAKOS as your president for the 2017–2019 term.
During the 24 years of our existence, our organization has built a great tradition of excellence, cooperation, and collaboration around the world. We are a unique, truly international society built on friendships and mutual respect. Over the last 2 years, I have had the opportunity to help ISAKOS make some major changes that have the potential to significantly impact our future direction. During this time, Michele Johnson, our fearless leader, announced her retirement as the CEO / Executive Director of ISAKOS. Michele, along with her trusty crew at MCJ Consulting, has served ISAKOS for over 20 years. As a result, the bulk of my tenure as president of ISAKOS has been focused on keeping Michele in the fold; we are fortunate that she will still run the Cancun Congress later this year and will serve as a special consultant to our new CEO for the 2 years that follow, through our 2021 meeting in Cape Town. Another major change was that we hired Michele's employees at MCJ Consulting. Now Hilary, Kathleen, Joy, Sarah, and Chanel are all full-time employees of ISAKOS, and our society has its own, full-time, home office!
Obviously, the next big task was finding our new CEO/Executive Director. I was extremely fortunate to have a world-class search committee — namely, Willem van der Merwe (First Vice President), Guillermo Arce (Second Vice President), Philippe Neyret (Past President), and John Bartlett — to help with this very important process. Additional help during this international search was provided by Tom Nelson, who brought years of experience as a major orthopaedic society CEO and consultant, as well as the executive search firm of Tufts and Associates. This group worked tirelessly and vetted dozens of candidates before interviewing 7 people, live and in person, in San Francisco in September 2018. The search committee unanimously selected Sue Reimbold from the formidable group of finalists, each of whom brought years of experience and expertise. Sue comes to ISAKOS with undergraduate and master's degrees in communications as well as a certification in association management. She has served as the Executive Director of the CHEST Foundation and as the Chief Marketing Officer and Senior VP for Market Growth for the American College of Chest Physicians (CHEST), based in Chicago. Sue has had extensive experience in leadership, staff management, fiscal management of multimillion dollar budgets, and coordination of medical meetings both nationally and internationally.