Page 8 - ISAKOS 2019 Newsletter Volume 1
P. 8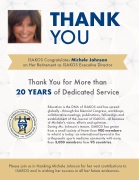 THANK
YOU
ISAKOS Congratulates Michele Johnson on Her Retirement as ISAKOS Executive Director
Thank You for More than
20 YEARS of Dedicated Service
Education is the DNA of ISAKOS and has spread globally–through the Biennial Congress, workshops, collaborative meetings, publications, fellowships and establishment of the Journal of ISAKOS–all because of Michele's vision, efforts and optimism.
During Ms. Johnson's tenure, ISAKOS has grown from a small society of fewer than 900 members to what it is today: an international byword in the orthopaedic sports medicine community with more than 3,000 members from 93 countries.
Please join us in thanking Michele Johnson for her vast contributions to ISAKOS and in wishing her success in all her future endeavors.