Page 35 - ISAKOS 2020 Newsletter Volume 2
P. 35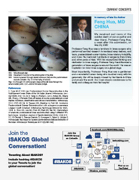 CURRENT CONCEPTS
In memory of late Co-Author
Feng Hua, MD CHINA
We received sad news of the sudden death of our co-author and dear friend, Professor Feng Hua, a week after this submission, on May 20, 2020.
Professor Feng Hua was a luminary in knee surgery who performed seminal research in meniscal ramp lesions, root tears, posterolateral corner injuries, knee rotatory instability, and more. He mentored hundreds of surgeons from China and other parts of Asia. With his exceptional thinking and dedication to knee surgery, Professor Feng Hua influenced a generation of knee surgeons around the world. He was an inspiration for Asian knee surgery on a global stage.
Most importantly, Professor Feng Hua was a gentleman and a wonderful human being who touched many with his generosity. He will be deeply missed by his friends in China and around the world. Our most sincere condolences to his family and colleagues from his hospital.
05A Drive-through sign.
05B Placement of anchor at the lateral gutter of the tibia.
05C Suture is passed through lateral meniscus (LM) and the posterolateral
capsule complex. Fig. 5-D Knot tying of sutures.
Figs. 5-A through 5-D Arthroscopic views of the left knee through the anteromedial portal. LFC = lateral femoral condyle.
References
1. Yuen WLP, YHD Lee. Posterolateral Corner Reconstruction in the Multiligament knee: State of the Art Asian Journal Arthroscopy Jan – Apr 2020; 4(1): 12-18. 2. Feng H, Zhang H, Lei H, Wang XS, Cheng KB, Zhang J. Femoral Peel off lesions in acute posterolateral corner injuries: incidence, classification and clinical characteristics. Arthroscopy 2011 27(7) 951-8). 3. Tapasvi SR, Shekhar A, Patil SS. Anatomic Posterolateral Corner Reconstruction with autogenous peroneus Longus Y graft construct. Arthroscopy Techniques 2019 8(12): 1501- 1509. 4. Yoon KH, Lee SH, Park SY, Park SE, Tak DH. Comparison of anatomic posterolateral knee reconstruction using 2 different PFL techniques. American Journal of Sports Medicine 2016; 44(4) 916- 21). 5. Ohnishi Y, Pascua Garrido C, Kumagae H, Sakai A, Uchida S Arthroscopic Technique for Isolated posterolateral rotational instability of the knee. Arthroscopic Techniques 2017 6(2) 291-295)
Join the
ISAKOS Global Conversation!