Page 2 - ISAKOS 2021 Newsletter Volume 1
P. 2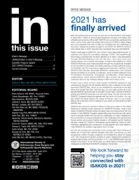 in this issue
Editor's Message                                               1 JISAKOS Editor in Chief's Message                   2
Scienti c Program Update -
2021 ISAKOS Congress                                     6
Current Concepts                                            10
EDITOR
Robert G  Marx, MD, MSc, FRCSC UNITED STATES
EDITORIAL BOARD
Iftach Hetsroni, MD ISRAEL, Associate Editor Tahsin Beyzadeoglu, MD, Prof  TURKEY Raju Easwaran, MS(Orth) INDIA
Joshua D  Harris, MD UNITED STATES Michail I  Iosifidis, MD, PhD GREECE Yee-Han Dave Lee, MD, MBBS, FRCS(Orth)
SINGAPORE
Daphne Ling, PhD, MPH UNITED STATES
Halit Pinar, MD, Prof  TURKEY
Dipak Raj, FRCS(Tr&Orth), MCh(Orth), MS(Orth)
UNITED KINGDOM
Sachin R  Tapasvi, MBBS, MS, DNB, FRCS INDIA Samuel A  Taylor, MD UNITED STATES
Soshi Uchida, MD, PhD JAPAN
Kyoung-Ho Yoon, MD, PhD, Prof 
REPUBLIC OF KOREA
Omer Mei-Dan, MD UNITED STATES, Past Chair
International Society of Arthroscopy, Knee Surgery and Orthopaedic Sports Medicine
2415 San Ramon Valley Blvd , Suite 4374 San Ramon, CA 94583 – 4318 USA Telephone: +1925807–1197
Fax: +1 925 807 – 1199
Email: isakos@isakos com
3
ISAKOS NEWSLETTER 2021: VOLUME I
OFFICE MESSAGE
2021 has
finally arrived
after the entire world was turned on end due to the pandemic that began in early 2020. Thanks to strong board leadership, focused committees, and a flexible and proactive office staff, ISAKOS has successfully weathered the storm, and in many ways the society has come out of 2020 in better shape and more prepared than ever to help our members face the challenges of the future. Despite the isolation brought on by COVID-19, ISAKOS members have shared that, in 2020, they felt more connected than ever with ISAKOS.
Partial credit goes to ISAKOS's use of Zoom video teleconferencing for 12 webinars and nearly 60 committee meetings in 2020. This breakthrough technology, combined with YouTube, allowed us to reach 7,500 participants through ISAKOS Webinars over the last year—and many more who visited Global Link to watch recordings. A brand new initiative for 2020, ISAKOS Webinars were made possible through the exceptional foresight of the Education Committee, the skillful planning of many ISAKOS clinical committees, and the impressive juggling and execution abilities of the ISAKOS staff. We also expanded ISAKOS's collaboration with multiple partner societies on a number of webinars, some of which featured a trial of translation into Spanish, Portuguese, and Mandarin. These webinar collaborations, which extend ISAKOS's reach around the world, have continued with four new webinars already in 2021 and more to come.
Another way in which we have made it easier for ISAKOS members to stay connected is through the full member directory that is featured in the newly launched ISAKOS App, which is now available for download in the App Store and Google Play store. With this app, you can easily access all of your favorite ISAKOS resources right in the palm of your hand. Journal of ISAKOS articles and ISAKOS books are only one touch away. You can view the 2021 ISAKOS Congress interactive agenda with the touch of a button. You can also watch the latest Global Link videos on-the-go, right on your mobile device. All of this and more is waiting for you when you download the new ISAKOS App.
ISAKOS also ensures members' ability to stay up-to-date on the latest literature by offering a fresh approach to JISAKOS Podcasts, while a new series of ISAKOS Podcasts shares the latest news and perspectives from the society. A new ISAKOS Thought Leaders Blog was launched as well, giving voice to thought leaders from across the organization on topics ranging from the contributions of young professionals to the challenges and opportunities facing women who pursue medical careers in orthopaedic sports medicine. We also created the "Giants in Orthopaedic Sports Medicine" series of video interviews, highlighting the contributions of living legends who have helped to make ISAKOS the excellent organization that it is today.
So how will we keep you connected in the coming year? We'll continue to deliver all of these new member benefits while also connecting you with exceptional content through a collection of microlearning videos on Global Link, new virtual and in-person courses on topics ranging from robotics to surgical skills training, and the production of 10+ new ISAKOS books that are already in the works. To cap off the year, you will be able to connect with your colleagues by attending the ISAKOS Congress in November.
We look forward to helping you stay connected with ISAKOS in 2021!