Page 25 - ISAKOS 2021 Newsletter Volume 1
P. 25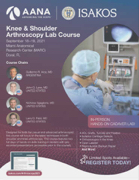 Knee & Shoulder Arthroscopy Lab Course
September 18–19, 2021
Miami Anatomical Research Center (MARC)
Doral, FL
Course Chairs
Guillermo R. Arce, MD ARGENTINA
John G. Lane, MD UNITED STATES
Nicholas Sgaglione, MD UNITED STATES
Larry D. Field, MD UNITED STATES
Designed for both the casual and advanced arthroscopist, this course will focus on the latest techniques in both shoulder and knee arthroscopy. This course features two full days of hands-on skills training in tandem with pre- recorded presentations (accessible prior to the course!).
isakos.com/Arthroscopy2021
ISAKOS NEWSLETTER 2021: VOLUME I 23
IN-PERSON,
HANDS-ON CADAVER LAB!
• ACL Grafts, Tunnels and Fixation
• Isolation Cartilage Defects
• Orthobiologics in the Knee
• Open Latarjet
• Reproducible Bankart Repair
And More!
Limited Spots Available–
REGISTER TODAY!