Page 2 - ISAKOS 2020 Newsletter Volume 2
P. 2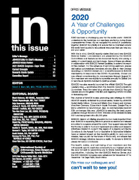 in this issue
Editor's Message                                           JISAKOS Editor in Chief's Message               JISAKOS Article Review                                 2021 ISAKOS Congress–Cape Town             Current Concepts                                          Research Grants Update                               Committee Report                                        
EDITOR
    1     2     4   14   18   51   52
Robert G  Marx, MD, MSc, FRCSC UNITED STATES
EDITORIAL BOARD
Iftach Hetsroni, MD ISRAEL, Associate Editor Tahsin Beyzadeoglu, MD, Prof  TURKEY Raju Easwaran, MS(Orth) INDIA
Joshua D  Harris, MD UNITED STATES Michail I  Iosifidis, MD, PhD GREECE Yee-Han Dave Lee, MD, MBBS, FRCS(Orth)
SINGAPORE
Daphne Ling, PhD, MPH UNITED STATES
Halit Pinar, MD, Prof  TURKEY
Dipak Raj, FRCS(Tr&Orth), MCh(Orth), MS(Orth)
UNITED KINGDOM
Sachin R  Tapasvi, MBBS, MS, DNB, FRCS INDIA Samuel A  Taylor, MD UNITED STATES
Soshi Uchida, MD, PhD JAPAN
Kyoung-Ho Yoon, MD, PhD, Prof 
REPUBLIC OF KOREA
Omer Mei-Dan, MD UNITED STATES, Past Chair
International Society of Arthroscopy, Knee Surgery and Orthopaedic Sports Medicine
2415 San Ramon Valley Blvd , Suite 4374 San Ramon, CA 94583 – 4318 USA Telephone: +1925807–1197
Fax: +1 925 807 – 1199
Email: isakos@isakos com
3
OFFICE MESSAGE
2020
A Year of Challenges & Opportunity
2020 has been a challenging year for the entire world. ISAKOS understands the hardships our members are facing during these unprecedented times. As we navigate this period of uncertainty together, ISAKOS' top priority is to ensure that our members around the world have access to educational resources that can help you and your career.
With this in mind, ISAKOS recently started the brand new ISAKOS Webinar Series. Live webinars are presented by the ISAKOS Committees and feature world-renowned faculty discussing a variety of current trends and techniques. Some of these are offered in collaboration with ISAKOS Partner Societies, to extend the reach of this content. For the schedule of upcoming webinars, please visit isakos.com/webinars. Members are also able to view webinar recordings on ISAKOS Global Link — a benefit included in ISAKOS membership. In response to the COVID-19 pandemic, Global Link was offered complimentary to non-members through August 31. Non-members are now eligible to subscribe annually to Global Link or become an ISAKOS member to continue access.
ISAKOS has also recently launched the official ISAKOS Thought Leaders Blog — an initiative from the ISAKOS Communications Committee. Read the latest blog articles from ISAKOS Thought Leaders around the globe—the first post regarding COVID-19 is live on isakosblog.com.
The Journal of ISAKOS is also promoting new offerings for 2020. JISAKOS recently revitalized its podcast series, hosted by JISAKOS Social Media Editors, Emmanouil Brilakis from Greece and Andreas Voss from Germany. Subscribe in Apple Podcasts, Google Play or follow JISAKOS on SoundCloud. Also, to commemorate ISAKOS' 25th anniversary this year, JISAKOS is selecting the best papers published through the end of 2020. Winners will be revealed in early 2021 and recognized with a $1,000 prize.
ISAKOS' mission of offering education is now more important than ever. ISAKOS is expanding efforts to provide accessible and relevant education to surgeons around the world. Your support ensures that the Society is able to fund and implement education and research initiatives created to support the needs of surgeons worldwide. Donations to the Annual Fund or Godfather & Godmother initiative have an instant impact on the Society's ability to carry out our mission, help us plan for the future of the Society, and ensure that ISAKOS strategic initiatives become a reality. To donate to ISAKOS, please visit isakos.com/donate.
The health, safety, and well-being of our members and the orthopaedic sports medicine community is our highest priority. We look forward to welcoming you to future ISAKOS learning opportunities, including the new ISAKOS Webinar Series plus the 2021 ISAKOS Congress now scheduled for November 27 to December 1 in Cape Town, South Africa.
We miss our colleagues and
can't wait to see you!